The Covid-19 pandemic has created a big social emergency, and research progress is the only solution to face it and control it definitively. From the beginning of the crisis, IDIBELL has adapted to the new needs creating new lines of research to fight the virus and applying all the knowledge to the pandemic. All in an environment that requires extreme preventive measures, like reduce mobility and increase social distance, to which we have also adapted.
We have started new research projects

From the beginning, the IDIBELL researchers started and designed several projects to study the new coronavirus. So far, 7 of these projects have been financed in competitive calls, which have received a total of 1.2 million euros. The Health Department selected 3 in the call "research and innovation projects for the prevention and treatment of Covid-19 disease": Dr. Xavier Solanich's project, which uses two drugs approved for other indications to suppress the immune system; Dr. Rafael Mañez's project, together with the spin-off RemAb Therapeutics, which aims to enhance neutralizing antibodies against SARS-CoV-2; and the project of Dr. Jordi Carratalá, which studies the genome of patients with Covid-19 to identify the genetic profile of those who develop Acute Respiratory Distress Syndrome.

In parallel, Dr. Carratalá's team has also received funding from the Carlos III Health Institute (ISCII) and its funds against Covid-19. Call that also selected the projects of Dr. Oriol Bestard to study the immune response in immunosuppressed individuals, and Dr. Jordi Bas, to generate a prognosis algorithm to choose the best therapeutic option, in which IDIBELL participate as a partner.
Beyond competitive funds, IDIBELL has signed 20 collaboration agreements with external promoters for a value of 1.4 million euros. Among them, the agreements with Gilead, Grifols, Novartis, or GESIDA stand out. It is also remarkable the agreement with the pharmaceutical company Roche, which has made it possible the Fibro-Covid clinical trial, which is evaluating the therapeutic efficacy of a drug in those patients who, despite having overcome the disease, have pulmonary fibrosis.
First results
Many personal and econòmic efforts have been dedicated to Covid-19 research. Thanks to this, we are obtaining the first results. The response speed of scientific society to the pandemic has made it possible to have the first results maintaining the scientific rigor. To date, IDIBELL has led 27 and has collaborated in 41 published works, with an average impact factor of 8.8 points.
Among the articles with the participation of IDIBELL are two Science that have targeted interferon as responsible for most of the severe cases of Covid-19. These studies, carried out by an international consortium in which Dr. Aurora Pujol's team has participated, have shown that young patients without a history that present severe complications of the disease have a high frequency of mutations in the interferon pathway. Furthermore, they show that critical patients make antibodies against the cytokine. Taken together, these results suggest that the administration of interferon in the early stages of the disease could be benefit patients with these alterations.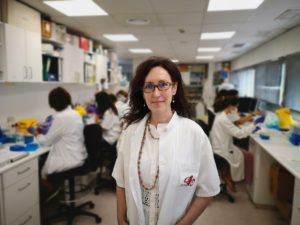 Another remarkable scientific article, this with the participation of Dr. Carratalá's group, is the one that studied the first Spanish Covid-19 cohort. This study was carried out in 127 Spanish hospitals and 4,035 patients and identified elderly and male sex as fundamental factors in mortality from Covid-19.
Apart from the more classical scientific investigation, we have also had time to observe, reflect, and draw conclusions about what was happening. In a letter published in The Lancet Hematology journal, Dr. Anna Sureda's team recommended postpone non-urgent visits and treatments of cancer patients, create physical barriers with Covid-19 patients, and boosting telemedicine. In this sense, Dr. Sureda assures that "we have had to learn very quickly, but many new lessons have come to stay".
"we have had to learn very quickly, but many new lessons have come to stay" Dr. Anna Sureda
During this period, we had the opportunity to speak with Dr. Sebastià Videla, clinical pharmacologist, and head of the Department of Clinical Research at IDIBELL, who suffered from the disease. In this conversation, Videla reflected on the research against the pandemic and how this is the only way to provide the necessary knowledge to fight it.
Many of these testimonies are collected in "Bellvitge, a hospital transformed by Covid-19", a documentary about the historical transformation suffered by IDIBELL and the Bellvitge University Hospital (HUB) during the Covid-19 pandemic. This audiovisual testimony was intended to record the radical changes caused by the new coronavirus. The documentary, a co-production of IDIBELL, HUB, and the production company Minoría Absoluta, was broadcast on Television Española and is now available on our YouTube channel.
Own initiatives
Apart from the numerous publications with IDIBELL participation various initiatives, focused on attacking different aspects of the pandemic, have also emerged.
On the one hand, the Psychiatric Research Group, together with the IDIBELL Communication and Strategy Unit and with the support of the L'Hospitalet City Council, created a survey aimed at citizens to study the effects of Covid-19 on physical and mental health, eating habits, gambling behavior, addictions, cultural consumption or sources of information on health and science, among others.
In the field of epidemiology, the IDIBELL Biostatistics Unit participated together with other centers in the creation of a web application, called Covid-19 TRACKER, which allows exhaustive monitoring of the different epidemiological markers and facilitate a global comparison. An application with great success.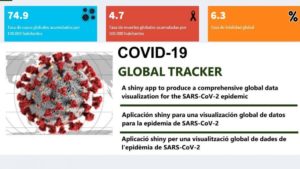 Accelerate these projects is up to everyone
To promote Covid research and all these initiatives, we have created two campaigns that are still active if you want to participate.
IDIBELL works together with big hospitals that are receiving people affected by Covid-19. In this situation, doctors, researchers, and health personnel are working together to identify new therapeutic targets, prevent infection, and develop faster methods of diagnosis. If you want to collaborate to help us stop the virus, you just have to go to the coronavirus.idibell.cat website and make your donation.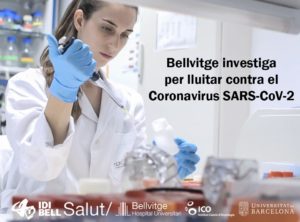 The chef Nandu Jubany and the company specialized in high-quality kitchen clothing CSTY have designed solidarity masks to raise funds for the IDIBELL research against Covid-19. These are particular masks that pretend to transmit smiles instead of viruses. For this reason, they have on simple illustrated because #AmbUnSomriure #BellvitgeInvestiga.