The Sant Joan Despí Association of Women Affected by Breast Cancer (DACMA) yesterday delivered a check for 10,000 euros for breast cancer research at the Bellvitge Biomedical Research Institute (IDIBELL) and the Catalan Institute of Oncology (ICO) led by Dr. Sonia Pernas.
The event, which took place in the Mercè Rodoreda Auditorium in Sant Joan Despí, started with an informative talk by Dr. Pernas, where she explained to the Association's patients the current situation of breast cancer research. Where are we? and, where are we going?
Dr. Pernas, principal investigator at IDIBELL and head of the ICO Breast Cancer Area, deeply appreciated the commitment and solidarity that the DACMA Association shows year after year towards breast cancer research, a key element in improving the quality of lives of women with this type of cancer. The check was delivered by Maria Perez, president of DACMA, and Libia Guillamon, member of the association and breast cancer patient. The event also attended Belén Garcia, mayoress of the Sant Joan Despí Town Hall, and the entire research team of Dr. Pernas from IDIBELL, ICO, and Bellvitge University Hospital.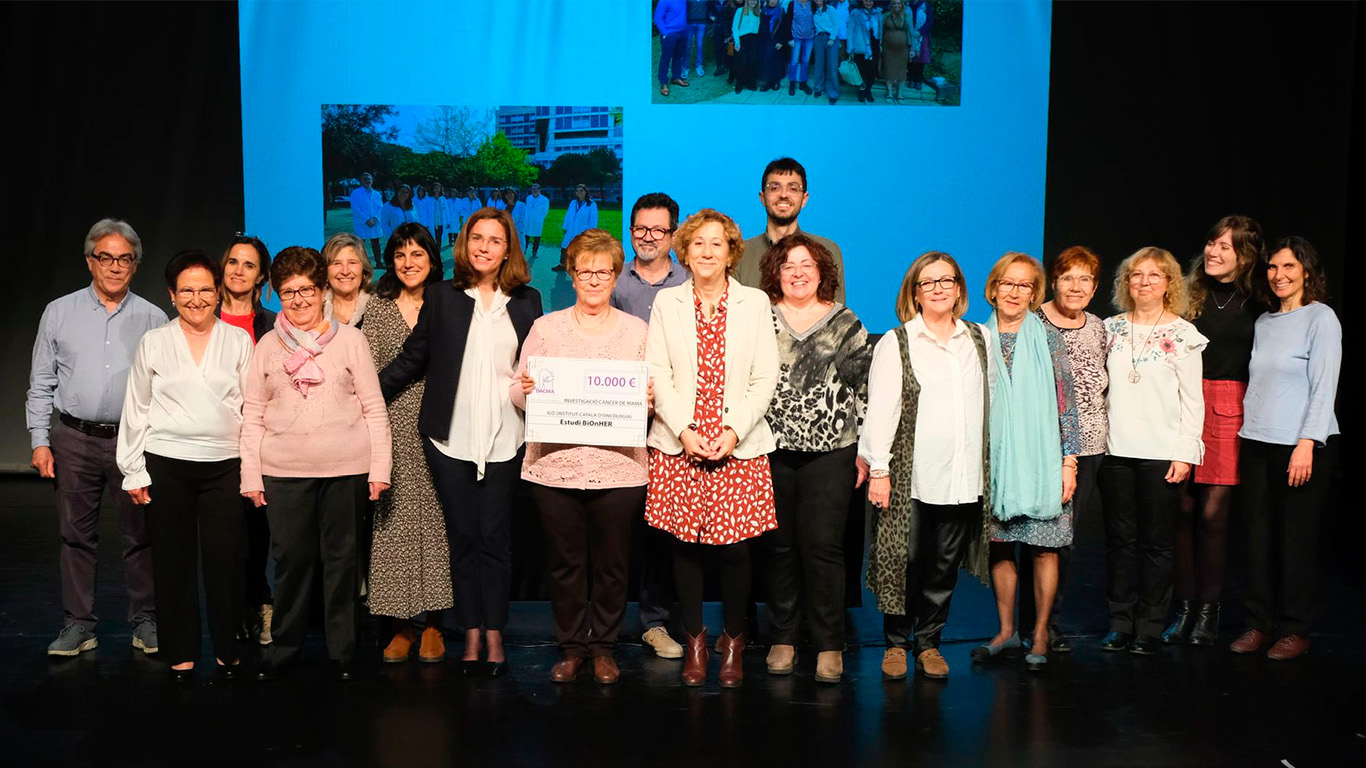 Can we predict how the treatment will work for each patient?
Breast cancers that present high levels of the HER2 protein show very heterogeneous evolutions and diverse responses to treatments. The money raised by the DACMA Association will go to finance a project led by Dr. Sonia Pernas to identify biomarkers that predict the response to treatment of this type of cancer.
"Knowing the response biomarkers can help us distinguish those patients who need more treatment from those who can avoid certain unnecessary treatments," says Dr. Pernas.
In addition, this project will also take into account the effect that the same treatment is having on the tumor, and how this effect can help us to predict the patient's response early.
The Bellvitge Biomedical Research Institute (IDIBELL) is a biomedical research center created in 2004. It is participated by the Bellvitge University Hospital and the Viladecans Hospital of the Catalan Institute of Health, the Catalan Institute of Oncology, the University of Barcelona and the City Council of L'Hospitalet de Llobregat.
IDIBELL is a member of the Campus of International Excellence of the University of Barcelona HUBc and is part of the CERCA institution of the Generalitat de Catalunya. In 2009 it became one of the first five Spanish research centers accredited as a health research institute by the Carlos III Health Institute. In addition, it is part of the "HR Excellence in Research" program of the European Union and is a member of EATRIS and REGIC. Since 2018, IDIBELL has been an Accredited Center of the AECC Scientific Foundation (FCAECC).