The Bioimaging Platform of the IDIBELL Scientific-technical Services has incorporated a new high-performance equipment, which is the Carl Zeiss LSM980 confocal microscope equipped with the Airyscan2 detector. Acquiring this new equipment has been possible thanks to a grant from the Carlos III Health Institute (IFEQ21-00042) and co-financing from IDIBELL.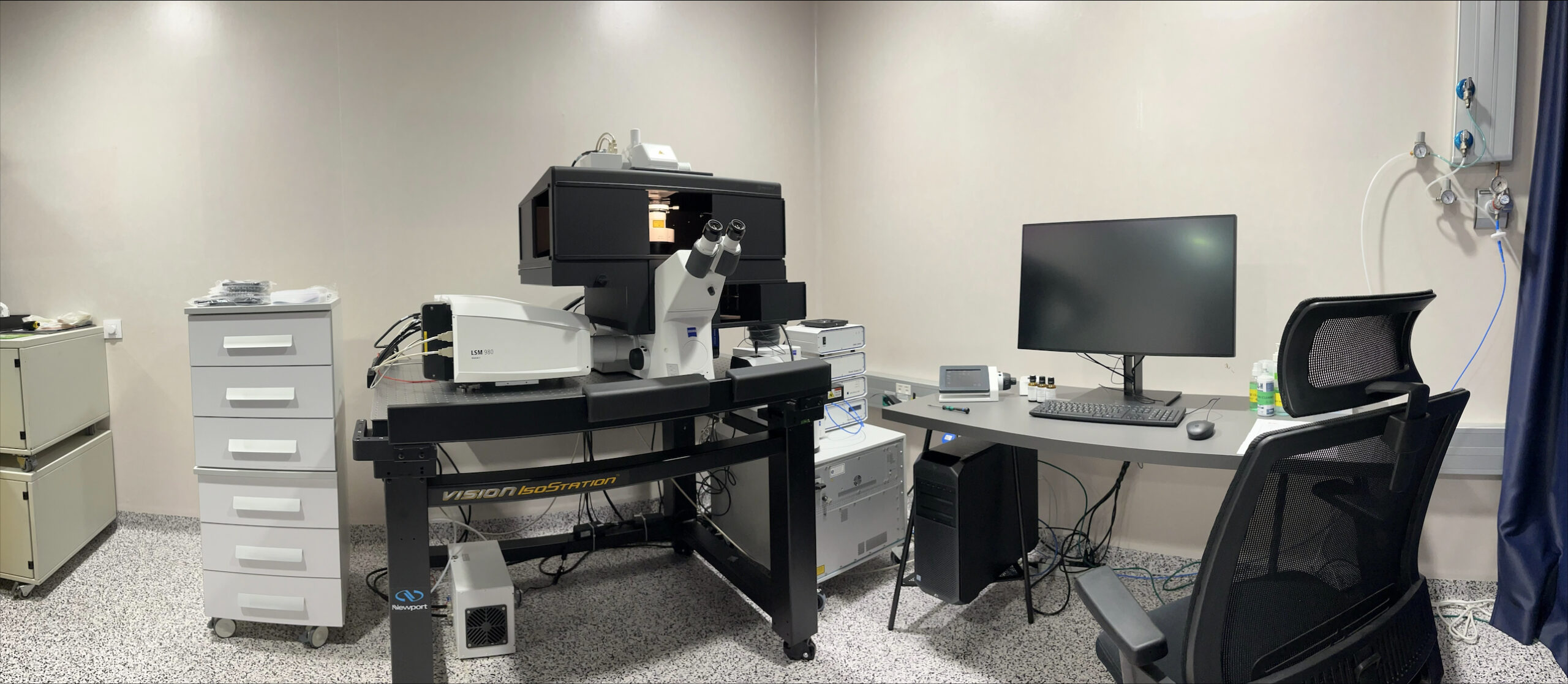 This new tool will allow to acquire high-resolution images with greater scanning speed and sensitivity, representing a substantial improvement with respect to the equipment available to date in the Unit. In this way, IDIBELL researchers will be able to study structures that until now could not see.
To communicate the range of benefits of this new microscope, a training talk was held yesterday with the presence of Gerry Sexton, Carl Zeiss applications specialist. During the session, the most outstanding characteristics of the device were presented and examples of possible applications that it could have in each of the IDIBELL research areas (Neurosciences, Cancer, Regenerative Medicine and Translational Medicine) were given.
The event was a great success with almost 80 attendees who at the end of the day were able to discuss their doubts with specialists from the Bioimaging Platform and Carl Zeiss. Dr. Joan Repullés, head of said platform, pointed out: "we have been able to discuss specific concerns related to research projects and explore how microscopy can provide a solution. I am sure that this new microscope will mean a great boost for IDIBELL's biomedical research."
Apart from this training session, a series of practical sessions with small groups have been organized to experiment first-hand with the new microscope and put it to the test with samples from the research groups. Specialists from Carl Zeiss will also participate in these sessions to offer personalized advice.
The organizers of the conference wanted to thank both the advisory committee and all the people who put the demonstration equipment to the test for all the involvement and effort invested in this project.
The Bellvitge Biomedical Research Institute (IDIBELL) is a biomedical research center created in 2004. It is participated by the Bellvitge University Hospital and the Viladecans Hospital of the Catalan Institute of Health, the Catalan Institute of Oncology, the University of Barcelona and the City Council of L'Hospitalet de Llobregat.
IDIBELL is a member of the Campus of International Excellence of the University of Barcelona HUBc and is part of the CERCA institution of the Generalitat de Catalunya. In 2009 it became one of the first five Spanish research centers accredited as a health research institute by the Carlos III Health Institute. In addition, it is part of the "HR Excellence in Research" program of the European Union and is a member of EATRIS and REGIC. Since 2018, IDIBELL has been an Accredited Center of the AECC Scientific Foundation (FCAECC).