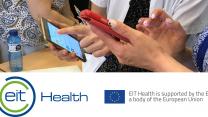 Virtual therapeutic communities in cancer to facilitate the construction of healthy experiences
Diagnosis, treatments, reinstatement or relapse are some examples of these significant transitions in the life of a person with cancer, in which it is often necessary to have appropriate tools and support strategies. efficient.
Know the psychosocial and health education needs of cancer patients
Offer personalized treatment based on the needs detected
Facilitate access to psycho-oncological treatments
Increase quality of life, emotional well-being and cancer education
Improve therapeutic adherence
Reduce the communication gap between healthcare professionals and users
Developed, tested with real patients (400 users) and in the process of a randomized clinical trial for efficiency results.
European proposal funded by the EIT Health (European Institute of Innovation and Technology in Health).
The program mixes social media, video conferencing and monitoring platforms to connect cancer patients and health professionals
C.Ochoa (IDIBELL/ICO) Oncommun – ICOnnecta't is a flexible, scaled and integrated e-Health educational and psychosocial services program that guarantees correct screening, monitoring and support in health education, adherence to treatments, and the provision of emotional care and psychosocial cancer quality.
Technology Readiness Level