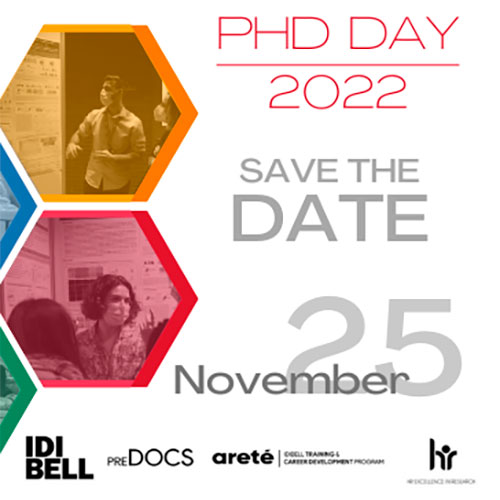 The PhD Day 2022 event will be held on Friday, 25th November at the UB Bellvitge Campus, with a special mention dedicated to Experimental models in research.
Registration is now open! Register here to submit an abstract to present a poster, give a talk, or participate as an attendee.
The registration deadline is 17th October. Once the registration will be closed, we will contact selected oral and poster communications presenters within few days.
This year the format of the event will be entirely face-to-face. Both oral and poster presentations will be held on-site.
This year, the best 3 oral communications, the best poster presentation, and the most popular poster will be awarded a diploma, as well as a gift voucher and a special surprise.
In this PhD edition we will host a panel session with experts and professionals in the field of Experimental models in research. 
In the coming weeks, we will provide more details about the activities and program on this date. Stay tuned for more news!   
We will be happy to answer all your questions and concerns, and receive your comments. Please submit your queries to the PhD Committee at phdcommittee@idibell.cat