Quan:
21/06/2019
tot el dia
Europe/Madrid Franja horària
2019-06-21T00:00:00+02:00
2019-06-22T00:00:00+02:00
On:
Aula 109
Aulari UB - Bellvitge
Contacte:
Manuel Portero-Otín - Institut de Recerca Biomèdica de Lleida (IRBLleida)-UdL, Spain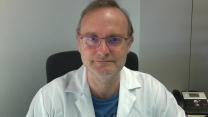 Metabolomics is the study of small molecules or metabolites. Metabolites are the result of cellular metabolism and are easy to correlate with the phenotype, defining both physiological and pathological situations. Lipids are key players in cellular (pato)physiology, and their implication in neurodegeneration conditions is underscored by the high abundance of lipids in the central nervous system, as well as its high complexity. The application of metabolomics to the study of lipids, so-called lipidomics, offers opportunities for novel venues for the study of neurodegeneration, ranging from pre-clinical studies to the analyses of clinical samples. As an example, here we will discuss some findings applying lipidomic analyses to the study of amyotrophic lateral sclerosis (ALS). In line with published evidences on the loss of homeostasis in lipid membrane trafficking in selected familial ALS patients, we have obtained data demonstrating that lipid components of selected subcellular locations (e.g., nuclear envelope) are altered in ALS samples. Furthermore, lipidomic analyses show that several lipids could serve as candidate biomarkers for diagnosis and prognosis of this devastating disease. Although several limitations arise, the data demonstrate that lipidomic analyses could be useful for evaluation of neurodegenerative diseases, especially when coupled to multidisciplinary approaches.
Dr. Manuel Portero-Otín, Scientific Coordinator of the Pathophysiology Group, is a doctor and PhD in Medicine and Surgery from the University of Lleida (1997). He specialized in Somatic Aging, Endocrine Physiopathology and Physiology. He was awarded different Postdoctoral scholarships at the CWRU (Cleveland, OH, USA), U Essex (Colchester, UK), INSERM (Toulouse, France), and Icahn School of Medicine (New York, NY, USA); and received support from EMBO, FEBS, Fulbright Commission and the EASD. He has been Vice-Dean-Chief of Studies for 7 years, University Professor and co-director of the Technology Center NUTREN, recognized by the Generalitat de Catalunya in the TECNIO Transfer Network, in the Department of Experimental Medicine of the University of Lleida (UdL). He is currently the scientific deputy director of the Institute of Biomedical Research of Lleida (IRBLleida), accredited by the Institute of Health Carlos III (ISCIII). He has authored more than 170 international publications, having participated in more than 50 basic and applied research projects. At the same time he serves as a reviewer for several academic journals, such as J Biol Chem, Carbohydrate Res, Diabetologia, Biochimie; in addition to having participated in project evaluation processes in various national and international agencies. He is Academic Editor of PLOS ONE. He is also coordinator of the doctorate program accredited by the UdL Physical Activity and Health, also participating in the management and delivery of courses of Master of Health Research. He has directed a total of 11 doctoral theses with international distinction. He is founder of the biotechnology company DMD, S.L.; and inventor of two licensed patents.
Host: Aurora Pujol