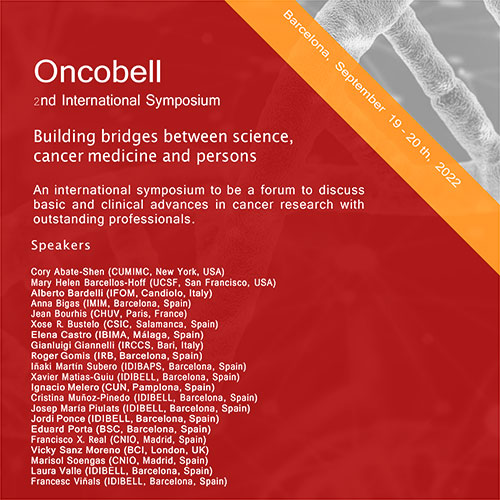 Oncobell 2nd International Symposium
Auditorium, Bellvitge University Hospital
We are pleased to invite you to participate in the 2nd International Symposium: Building bridges between science, cancer medicine, and persons; which will take place on September 19-20th at the Auditorium of Bellvitge Hospital in Barcelona. A forum to discuss basic and clinical advances in cancer research with outstanding professionals.
This is the second year that IDIBELL's Oncobell program organizes the international symposium. This research program fights cancer in a collective and multidisciplinary way, focused on molecular mechanisms as well as experimental therapies. We believe that increasing the communication between groups linking these two approaches will lead to better ideas and shortcuts in the transition from the lab to the clinics.
In this 2022 edition, we will have many high-level national and international speakers that will discuss topics like genomics, cancer immunity, clinical technology, metastasis and drug resistance.
All those who want to participate in the symposium can submit an abstract for poster presentation before July 15th through the symposium website. A scientific committee will select the abstracts based on relevance, scientific excellence, and diversity of approaches.
Registration is also open until September 10th via the web. The registration is free, and we recommend you reserve your place as soon as possible.